Victoria graduated from the renowned College of Integrated Chinese Medicine in Reading (affiliated with Kingston University) with a First Class BSc Honours degree in Acupuncture. The study of biomedical science formed a significant part of Victoria's degree course and this has given her an understanding of Western medical diagnosis and their interpretation from a Chinese Medicine perspective. Victoria also has a degree in Anatomy which has proved invaluable to her practice as an acupuncturist.
Victoria became interested in acupuncture after her own experience of using it acupuncture to assist fertility. It had the welcome side effect of putting an end to her long history of migraines. Please visit the 'Fertility' page for more information.
The accredited voluntary register (AVR) scheme was set up by the Government to improve standards and safety for the benefit of the public and as such high standards in training, safe practice and codes of conduct are guaranteed.
---
Services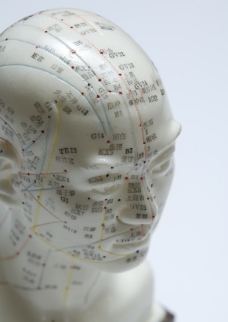 Acupuncture works by maintaining your body's equilibHead modelrium by regulating the flow of energy through the body. It involves the insertion of very fine needles into specific points in the body to regulate the flow of 'qi', your body's vital energy. As a result of our lifestyles and environment our energy can be disturbed, depleted or blocked resulting in symptoms of pain, illness or disease.
In certain instances, traditional acupuncture can be an effective therapy to help restore balance and promote physical and emotional well being. Treatment is aimed at the root of your condition as well as your main symptoms which means as your main health complaint resolves other niggling symptoms may improve too. Each patient is unique so two patients with the same Western diagnosis may well receive different treatments as the root of their condition is addressed.
Acupuncture is regularly used to treat a wide range of medical conditions to help with specific symptoms or pain. Some people use acupuncture because they feel generally unwell but have no obvious diagnosis. Others choose it simply to enhance their feelings of wellbeing. Many people return to acupuncture again and again because they find it so beneficial and relaxing.
Whether you want to have acupuncture as a standalone therapy or alongside other conventional treatment you are receiving, Chinese medicine theory provides a firm foundation upon which to base a personalised treatment plan to support your recovery and well-being. Acupuncture is suitable for all ages.
Reviews and Ratings
We do not have any reviews about Harefield Acupuncture available right now.